Empreinte : Acting Together Against Sexual Assault
Summary Presentation of the Program Components
​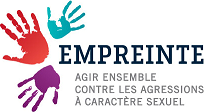 I – Intervention with young people
Six workshops for high school students (Secondary 2, 3 and 4):
developed jointly by CALACS (Sexual Assault Centre) and two researchers from the sexology department of the Université du Québec à Montréal;
aligned with the MEES learnings in sexuality education for the themes Sexual Violence (Secondary 2 and 3) and Identity, Roles, Sexual Stereotypes and Social Norms (Secondary 3);
led by workers trained in a CALACS.
II – Intervention with school staff
One-day training for teaching and non-teaching staff of the school to be scheduled BEFORE the start of the workshops with the students.
Enables the acquisition of a comprehensive understanding of sexual violence so that the school team contributes to preventing this problem and to intervening appropriately with all students.
Training adapted to the school reality and provided by trained workers from a CALACS.
III – Intervention with parents
Six video capsules on the same themes as the workshops for young people, available online.
Aims to raise parents' awareness of the problem of sexual assault and to equip them to tackle the various themes of the workshops with their teenagers.
Note: To find out more about the "Empreinte: Acting Together Against Sexual Assault" program, view the capsules for parents:
Summary Presentation of the Workshop for Young People at Secondary Level
| | | | |
| --- | --- | --- | --- |
|   | THEME | GENERAL OBJECTIVE | SCHOOL LEVEL* |
| 1 | Sexual assault: definition, prevalence, myths and prejudices | Better understanding of the problem of sexual assault, its forms, its extent as well as the myths and prejudices associated with it. | 2nd secondary |
| 2 | Consent | Better understanding of the notion of sexual consent and its application in different contexts. | 2nd secondary |
| 3 | Disclosure and support | Developing self-help strategies to react appropriately in the event of confidences of a friend who was the victim of sexual assault. | 3rd secondary |
| 4 | Empowerment of young people to counter sexual assault | Becoming aware of the active role that everyone can play, individually and collectively, in the prevention and denunciation of a situation of sexual aggression. | 3rd secondary |
| 5 | Culture of hypersexualization and gender stereotypes | Developing critical thinking about the influence, on oneself and others, of sexualized content and stereotypes conveyed in the public space. | 3rd secondary |
| 6 | Sexual exploitation | Better understanding of the different forms of sexual exploitation and its consequences | 4th secondary |
* Since workshops 1 and 2 are prerequisites for the following workshops, it is suggested to offer all the workshops (workshops 1 to 4, 1 to 5 or 1 to 6) in Secondary 3 for the first year of deployment of the program (2017-2018).
Workshops 1 and 2 can also be offered in Secondary II as planned.